Because we can't bring you any shows we are going to bring you some theatre snippets
that you did not know you needed to know!
Theatre is full of superstitions and strange little sayings and we are going to bring you
one each week so you know we still care.
PEACOCK FEATHERS? NUP!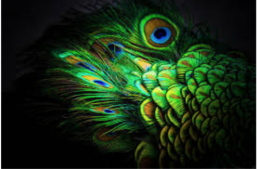 A peacock feather is supposed to be bad luck as the end of it resembles the evil eye. No production wants to risk offending an audience or bringing an "evil eye" curse upon a show. The "evil eye" of the peacock feather is believed to have cursed numerous theatre productions with falling sets, technical difficulties, forgotten lines and general chaos within the production.
Theatre folk strongly dislike the feathers in any part of the theatre not just the stage, even circus performers do not like to risk feathers in tents!
Today some productions use them in costuming or props and sets but most theatre veterans will feel very uneasy with this practice. Best to leave them out!